Hi,
I am getting a HTTP error 500.19 Internal Server error. This is after running the stadium server install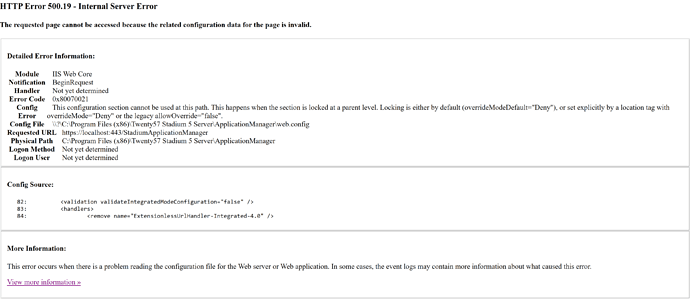 Hi Brian,
Thank you for your question, we'll need to investigate a bit further with you regarding this bug.
The error you are seeing there is normally related to IIS and the setup of access to the system for the Application Pool.
Could I please request a bit more detail:
Which version of Stadium did you install
Windows version
Do you have IIS on the machine (you don't need it, but if you've got some existing complex IIS configs for other projects, it might affect Stadium)
Have you restarted the PC
Hi Dawie,
I am installing Stadium 5, I am running Windows 10 Home, yes I have IIS installed, just the standard install.
I ran the setup and it ran through successfully, using all the default setups during the install.
Thank you
Brian
Hi Dawie,
I just have another question, when i run the Stadium 5 install, it says that it is creating a DB, but nowhere during the install does it ask you to input credentials etc for the database install.
Thank you
Brian
Hi Brian,
Did you see a message about installing a DB while installing Stadium Server?
Stadium Server installs a SQLite database that is used exclusively by Stadium Application Manager for internal purposes. The DB contains data regarding user management, server properties, and other things.
Thank you
Anton
Hi Brian, are you still getting that 500.19 issue?
Thank you Anton. Thanks for clearing this up.
Hi Nirav,
Yes I am still getting this error. I am not sure how to go about fixing it?
Hi Nirav,
I uninstalled stadium server and reinstalled it. it seems to be working now.
Thank you
I am very glad to hear it is working now! Please let us know should you encounter any other issues.
I will be moving this post over to the bug category as this post is related to an issue you encountered in Stadium.