Description:
We will use javascript and CSS to style tooltips on images.
---
Important note:
We are going to use data-title attribute. data-* attributes are a method to store custom data in DOM elements/HTML. Since we cannot use :before or :after on elements which are not containers, we are going to use the element's container <div> and has the pseudo-tooltip on the container.
---
Download and extract image
Margerite.zip (22.9 KB)
---
Let's create our image
Create a new application
Drag an image control on the canvas
Rename the image as ImageMargerite
Add the downloaded image above using the image browse button and click save
Preview the application
---
Let's analyze how the image is rendered in our browser using the developer console.
Press CTRL+ SHIFT+J to open the developer console.
The image is wrapped in a div with id StartPage_ImageMargerite-container.
---
Adding the css style
Open the stylesheet and paste the following code
[data-title]:hover:after {
    opacity: 1;
    transition: all 0.1s ease 0.5s;
    visibility: visible;
}
[data-title]:after {
    content: attr(data-title);
    background-color: #cfc;
    color: #111;
    font-size: 150%;
    position: absolute;
    padding: 1px 5px 2px 5px;
    bottom: -1.6em;
    left: 100%;
    white-space: nowrap;
    box-shadow: 1px 1px 3px #222222;
    opacity: 0;
    border: 1px solid #111111;
    z-index: 99999;
    visibility: hidden;
}
[data-title] {
    position: relative;
}

.pseudo-tooltip-wrapper {
    /*This causes the wrapping element to be the same size as what it contains.*/
    display: inline-block;
}

---
Hooking the css using the image properties
We are going to add the newly created class pseudo-tooltip-wrapper in the image class properties. Type in pseudo-tooltip-wrapper in the class section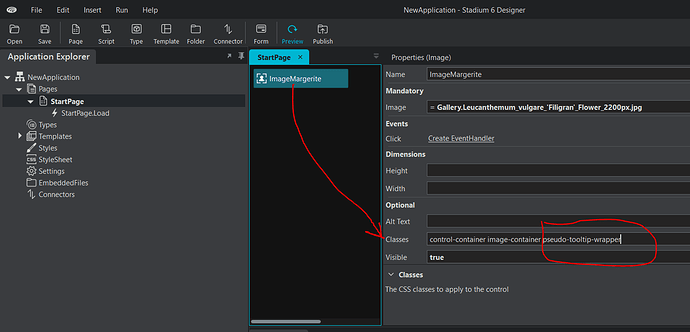 ---
Setting pseudo-tooltip text using javascript
Drag and drop a javascript action on the StartPage.Load canvas
Copy and paste the following code into the code section
$(document).ready(function(){
  document.getElementById('StartPage_ImageMargerite-container').setAttribute('data-title', MyFunction());
});

function MyFunction() {
        return "Hello this is css!";
    }

Click Save
---
That was our last step

. Click preview
---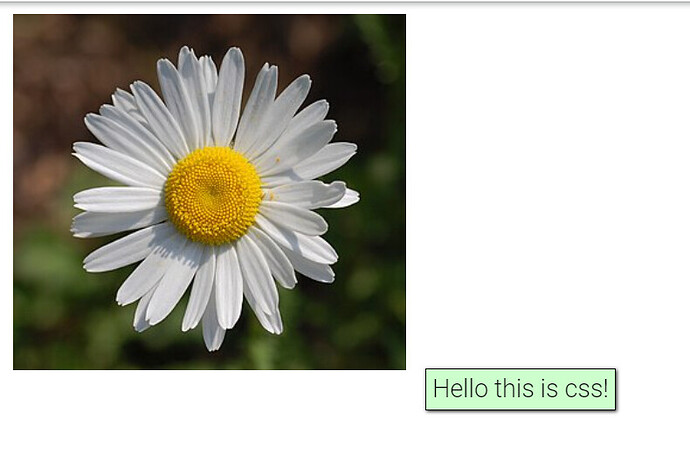 Sample
NewApplication.sapz (28.8 KB)